Behind Every Great Knitter is a Huge Pile of Yarn...
You've probably looked around some craft stores and got overwhelmed with a variety of yarns inside the shop. Most of the time, there's more than one shelf of yarns, and you probably had a hard time choosing the best for your craft. In this article, we've listed some guidelines in identifying the different types of yarn, including their pros and cons.
Animal-Based Fibers
Natural animal fibers are great insulators; it is the best material for knitting winter clothing and accessories.
Wool – Also known as the queen of yarns, this is the top choice of knitters for their projects. Obtained from sheep and certain other animals, it is one of the most durable fiber types. Different breeds of sheep produce fibers with varying characteristics. There are three most popular types of sheep's wool:
The Merino wool is prized for its soft, fine, and lofty fiber. The Hikoo Trenzado Yarn, made from 100% merino wool, offers the most warmth and softness.
Hikoo Trenzado Yarn from Makers' Mercantile
The Shetland wool is made from Scotland's small and tough native sheep in Shetland Islands.
Ideal for making carpets, the Icelandic sheep produces rustic and soft yarn.
Cashmere
– This silky, soft fiber is combed from the backs and shoulders of Kashmir goats. It is a luxurious wool that was only available to the royalty. At present, knitters favor this fiber, like the Artfelt Roving Cashmere Queen Standard Solid, for a soft and warm knitting experience.Mohair – An animal-hair fiber obtained from Angora goats' long and silky hair. The mohair fleece is great moisture absorber, and prized for its resilience and durability. Makers' Mercantile offers a variety of colorful and sturdy mohair yarn.
Alpaca Fleece
– Depending on how it is spun, the alpaca fiber can be lightweight or heavy. It is a very soft and fine fiber that comes from the animals of the same name. Compared to a sheep's wool, this kind of fleece does not contain lanolin making it a hypoallergenic knitting material. Zitron Finest Royal Alpaca Yarn is an excellent knitting material for your cardigan or shawl projects.
Llama Fleece
– Closely related to the alpacas, the llamas are also raised for their fiber. A llama has a two-layerfleece. Its soft inner coat is used for clothing, while the outer coat is often used for making rugs and ropes. One of the best materials for sweater projects is the Hikoo Llamor Natural Palette Yarn. This lightweight yarn is made from 100% baby llama's soft undercoat.
Plant-based Fibers
Although
plant fibers
do not give good insulation as animal-based fibers do. The former are more breathable and can absorb moisture very well. Another advantage of plant-based fiber is its hypoallergenic property.
Cotton
– Cotton is the best example of light and absorbent fiber. However, it offers minimal elasticity compared to wool. It is usually blended with other fibers such as nylon to offset the undesirable characteristic. There are three fiber types of cotton in the market:
The Egyptian has the longest fiber, and smoother and softer compared to the others.
The Pima is a cross between Egyptian and American cotton.
The American cotton is the most popular for it has the widest color variety. The Hikoo Helix Yarn is the perfect product of medium-long cotton fiber that readily takes dye.
Photo by Wikipedia
Bamboo
– Also known as the "green" yarn, the bamboo fiber is a biodegradable and renewable resource. The fiber's coolness and breathability makes it the most comfortable clothing for warm weathers. Another cool feature of the bamboo is its non-allergenic properties. The Hikoo CoBaSi Yarn is a great alternative for knitters that are sensitive to wool.
Linen
– Among all the plant fibers, Linen is the most durable against heat. It is a good material for warm weather items. The Schoppel-Wolle El Linio Yarn is the perfect choice for loose summer top projects. However, this material wrinkles easily.
Silk
– This is one of the most versatile fibers. It offers warm insulation for cold weathers, and cool breathability during summer. The Hikoo CoBaSi Plus Yarn is a wool-free sock yarn that wouldn't irritate the skin. It's the go-to yarn for knitting children's garments and blankets.
Synthetic Fibers
Yarns produced from chemicals are known as synthetic fiber. Most of these fiber types are easy to maintain.
Acrylic
– Inexpensive and machine washable. The Schoeller-Stahl Hit Yarn is a good choice for baby garments and pets' accessories. The acrylic yarn is also the great starting point for beginners.
Metallic
- Since the ancient times, gold and silver have been used as fabric decoration. This synthetic fiber is composed of metal, plastic-coated metal, metal-coated plastic or a core completely covered by metal. The
Skacel Vegas Yarn
is a great option for adding glitz in your crochet and knitting projects.
Photo courtesy from Forbes.com
Schoeller-Stahl Hit Yarn from Makers' Mercantile
Nylon
– Easy to wash and exceptionally strong, nylon is commonly blended with other fibers such as cotton or Merino wool. The Schoppel-Wolle Zauberball Yarn is your go-to yarn for knitting project such as socks and cardigans. It can also be used to make carpets and draperies. Thanks to its abrasion resistance property.
Straightening the Facts about Wool Allergy


Photo courtesy from WeeWestchester
Most people dislike working with wool yarns because they think it's itchy or can trigger some allergy attacks. But what exactly counts as an allergic reaction?
Skin Irritation – Rashes and hives are the most common symptoms of people who have negative reaction to certain products that came in direct contact with their skin.
Nasal Irritation – Similar to pollen allergy, wool allergy can cause nasal congestion and other respiratory problems.
Eye Irritation – Only real wool allergy can affect a person's eyes. Aside from the itchy sensation, knitters and wearers experience redness and puffy eyes.
A true wool allergy is a rare case. Because wool is derived from sheep, the fiber still has lanolin residue. Lanolin is sheep's natural oil, and often used as an emulsifier in cosmetics and toiletries. If people apply lanolin-embedded product on their skin, how come they don't get rashes or hives? The answer is simple. Manufacturers use lots of chemicals to remove the sheep's oil and to produce different colors. Unfortunately, some of it stays in the fiber. The chemicals and pesticide residue remains in conventional wools, which triggers allergic reactions. Organic wool, like the Schoppel-Wolle Zauberball Crazy Yarn, is a great alternative for its non-allergenic characteristic. For sensitive knitters, there is also the no-wool CoBaSi line. Try completing the CoBaSi Pretty Enough Pullover Pattern with the no Hikoo CoBaSi Tonal Yarn.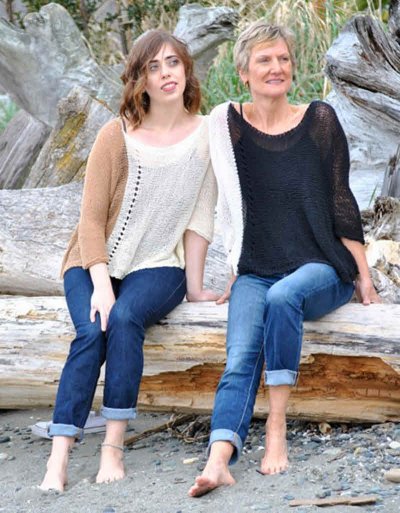 CoBaSi Pretty Enough Pullover Pattern finished product
Now get those needles ready, and start knitting your way to the coolest summer and winter wear!
Resources:
Words
Natural animal fibers - https://en.wikipedia.org/wiki/List_of_yarns_for_crochet_and_knitting
Wool - https://en.wikipedia.org/wiki/Wool
Shetland wool - http://www.shetland-sheep.org/about-shetlands/shetland-wool/
Icelandic wool - http://modernfarmer.com/2013/12/breed-apart-icelandic-sheep/
Cashmere - http://www.wisegeek.com/what-is-cashmere.htm
Mohair - http://www.britannica.com/topic/mohair
Alpaca Fleece - https://en.wikipedia.org/wiki/Alpaca_fiber
Llama Fleece - http://knowledgenuts.com/2013/12/15/the-difference-between-a-llama-and-an-alpaca/
Plant fibers - http://www.aboutknittingmachines.com/types-of-yarn-fiber--plant.html
Cotton - http://www.aboutknittingmachines.com/types-of-yarn-fiber--plant.html
Linen - http://textilelearner.blogspot.com/2012/01/linen-fiber-characteristics-of-linen.html
Silk - https://en.wikipedia.org/wiki/List_of_yarns_for_crochet_and_knitting
Bamboo - http://www.aboutknittingmachines.com/types-of-yarn-fiber--plant.html
Synthetic Fibers - http://www.filspec.com/synthetic-yarns.com/
Acrylic - http://www.wisegeek.org/what-is-acrylic-yarn.htm
Metallic - https://en.wikipedia.org/wiki/Metallic_fiber
Nylon - http://www.filspec.com/synthetic-yarns.com/
Photos
01 hikoo trenzado yarn.jpg - Makers' mercantile - http://www.makersmercantile.com/hikoo-trenzado-yarn.html
02 alpaca fleece - British Alpaca Society - http://www.bas-uk.com/gallery
03 cotton - Wikipedia - https://en.wikipedia.org/wiki/Cotton
04 schoeller-stahl hit yarn - Makers' mercantile - http://www.makersmercantile.com/schoeller-stahl-hit-245.html
05 metallic sweater - http://www.forbes.com/sites/forbesstylefile/2013/11/11/can-i-wear-a-metallic-sweater-to-the-office/#6b06760d559d
06 wool allergy - WeeWestchester - http://www.weewestchester.com/2015/11/04/understanding-fall-winter-allergies/ 07 cobasi camisole pullover - Makers' mercantile - http://www.makersmercantile.com/pretty-enough-pullover-pattern-cobasi.html