How much do you know about short rows?
A large number of modern knitting patterns use this fascinating technique to shape shawls, sweaters (back neck, rounded fronts, longer back or sides, angled cuffs, shaped collars, and more). Making different geometric shapes like wedges, circles, and waves, requires knowing how to do short rows. The more you learn about them, the more you see where to apply them. Not only are short rows used for shaping, they can be involved in creating fun three-dimensional textures in one or more colors as well as artistic color work that looks like a free-hand painting.
Interested in this technique? Join Faina and learn four easy ways of working short rows, how to replace a method used in the pattern with your favorite one, how to calculate the sequence of short rows, and see how they are applied for making various shapes.

The event will be hosted via Zoom. Learn about accessing our online events HERE.

This is LIVE class. It will not be recorded, so please be sure you are able to attend :)

The times for this class are Pacific Daylight time.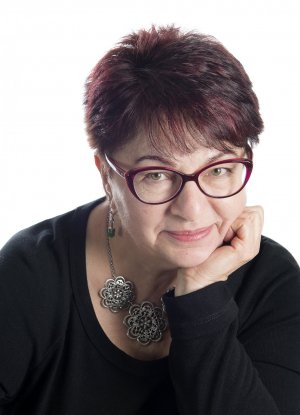 | | |
| --- | --- |
| Skill Level: | Beginner |
| Skill Details: | Basic knitting skills are required |
| Materials Included: | Price includes the online workshop plus the Varna shawl pattern |
| Requirements: | Yarn: 2 balls of different solid-color yarn (DK or worsted weight) Needles: US 4-5 (for DK) or US 6-8 (for worsted weight) Notions: Stitch markers, row counter, small scissors, pencil, paper for additional notes |
| Instructor: | Faina Goberstein |
| Instructor Bio: | Faina Goberstein is an independent knitwear designer, author, and professional teacher based near San Francisco, CA. Taking an early retirement from a long career as a math professor gave Faina a chance to let her creativity and long-time passion for knitwear design become a second profession. Faina's interest in a wide assortment of knitting techniques and stitch patterns is evident in her designs and topics of her inspirational classes. Faina is a great communicator and energetic teacher who cares about her students and focuses on sharing her knowledge and excitement about the craft. She teaches at Vogue Knitting Live, Interweave Yarn Fest, and various venues such as guilds and yarn shops around the country and abroad. Faina's designs often appear in internationally recognized magazines such as Rowan, Vogue Knitting, Interweave Knits, Knit.Purl, Cast-On and in numerous books. Faina is best known for her elegant and well-fitted classic designs. |