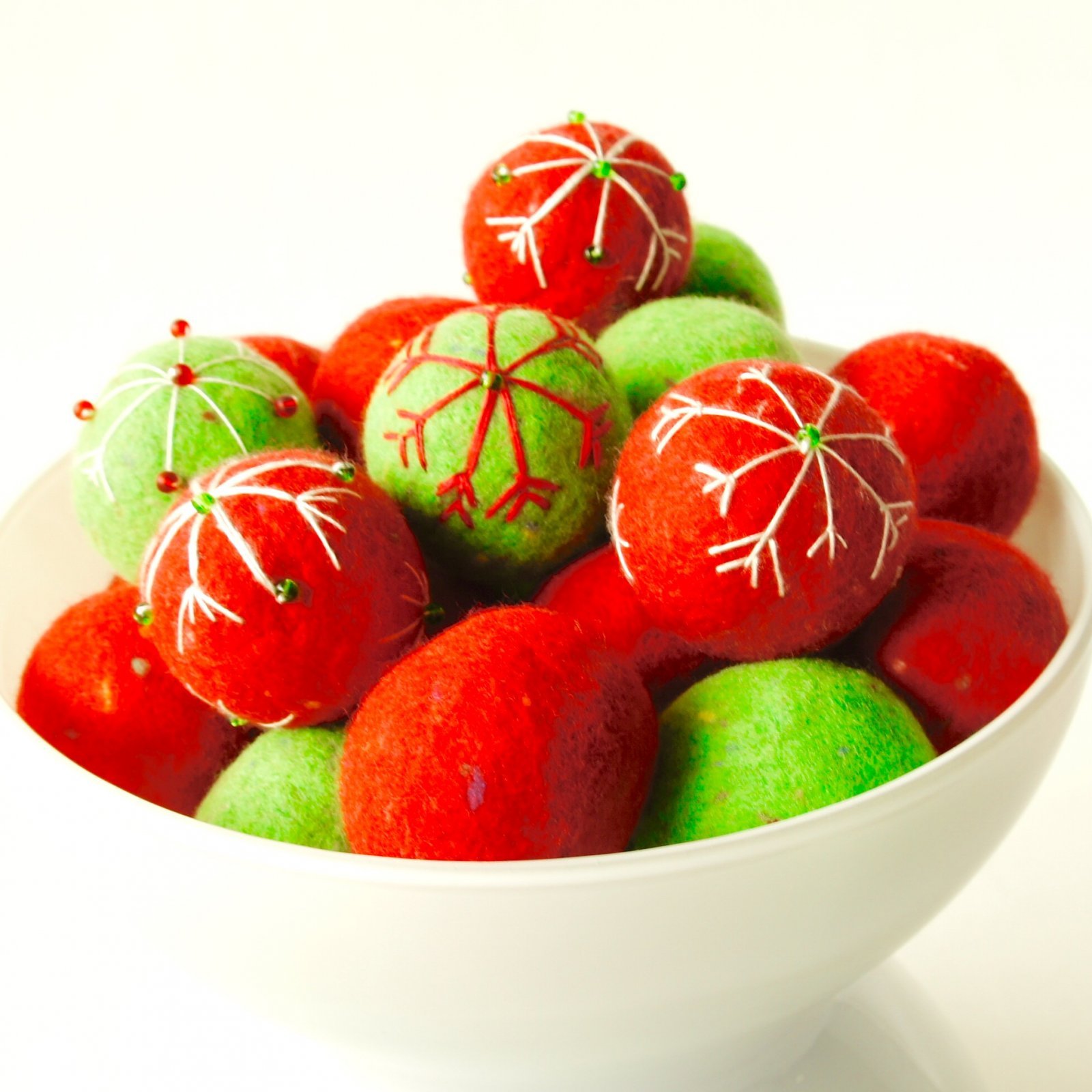 Let's make a handmade holiday!
Felted holiday balls are quick, easy, and fun for the whole family! In this class you will learn just how easy it is to make these decorations. After class you can take the knowledge home and share it with family and friends!

Making these ornaments is a great all ages holiday activity for family get togethers. It's also a fun way to entertain guests at holiday gift exchanges and parties! Make lasting memories with the ones you love as you create decorations that will last for decades!

As a gift to you this holiday season we are offering this class for FREE with the purchase of a holiday bucket of balls kit! Keep the entire batch for yourself or gift them to family and friends. These felted balls can be turned into ornaments, garlands, or simply be displayed in decorative bowls... your imagination is the limit!

Please note: a washing machine (front or top loader) is needed to felt these balls. The class will take you to the point of placing the balls in the washing machine. This final step will need to be finished at your home, and is as easy as tossing them into your machine and turning it on.



Skill Level:
Beginner
Skill Set Needed:
No experience necessary!

Class Includes:
- One hour of instruction
Class Prep & Materials Needed:
- One Holiday Bucket of Balls Kit

Class Policies
We are continually striving to bring fresh new classes to our Makers' Mercantile® patrons. To make sure that these classes take place, we encourage you to reserve your spot early to ensure the minimum enrollment! Consider signing up with a friend, or a bunch of friends!
Registration: Classes are sold on a first come, first served basis, both online and in-store, and your place in class is reserved with full payment.
Class Minimums: The minimum class size is 3 students. If class registration does not reach 3 students by 7 days prior to the first session, the class will be cancelled. If we cancel your class for lack of enrollment, we will contact you with refund/transfer options.
Cancellations: Should you need to cancel any time prior to 7 days before the first class, you will receive a full refund. If you cancel after that date, we cannot issue a refund unless we are able to fill your place from the wait list. You may also have a friend take your place in the class, if you are not able to cancel in time to receive a refund.