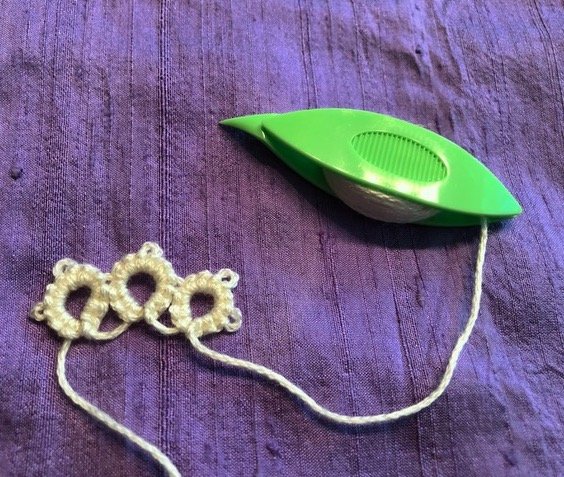 Tatting is a shuttle lace consisting of rings, chains, and picots made with a single stitch from fine thread.
In this class the stitch is mastered and rings and picots will be made. A later class will cover chains, two
shuttle tatting, two color tatting, tricks to bury your ends, and much more.

Skill Level:
Beginner
Skill Set Needed:
No experience necessary.
Class Includes:
- Three hours of instruction
- A one time use 10% off discount coupon for in-store merchandise (includes Makers' Cafe)
Class Prep & Materials Needed:
- Clover Tatting Shuttle
- Size 10 Cotton Thread
- A 2.00mm crochet hook
- Scissors
- Pencil or pen to annotate notes
Class Policies
We are continually striving to bring fresh new classes to our Makers' Mercantile® patrons. To make sure that these classes take place, we encourage you to reserve your spot early to ensure the minimum enrollment! Consider signing up with a friend, or a bunch of friends!!
Registration: Classes are sold on a first come, first served basis, both online and in-store, and your place in class is reserved with full payment.
Class Minimums: The minimum class size is 4 students. If class registration does not reach 4 students by 7 days prior to the first session, the class will be cancelled. If we cancel your class for lack of enrollment, we will contact you with refund/transfer options.
Cancellations:
Should you need to cancel any time prior to 7 days before the first class, you will receive a full refund. If you cancel after that date, we cannot issue a refund unless we are able to fill your place from the wait list. You may also have a friend take your place in the class, if you are not able to cancel in time to receive a refund.
| | |
| --- | --- |
| Instructor: | Eda Lee Haas |
| Instructor Bio: | Eda Lee Haas has loved handwork from a very young age. Her grandmother taught her to crochet at 3, embroider at 5, and knit at 7 years of age. She is an avid quilter, weaver, and spinner. She has hooked rugs for over 50 years, dyeing all of the wool fabric. She braids, weaves, and knot rugs as well. She also does needlepoint, shashiko, pin loom weaving, and all sorts of international embroideries. She teaches to keep the old fiber arts alive ? tatting, hemstitching, and hardanger. She loves to try complicated patterns and design her own. She is a long time Chicago transplant to the Seattle area. After earning a BA in biology and mathematics and receiving her masters degree in medical technology from Northwestern University, she worked as a technologist in Chicago. The doctors she worked for claimed that they never saw her without a needle in her hand and it continues today. She lives with her husband of 43 years and her cat of 14 and has two grownup sons. |