Photo from wisegeek.net
Throughout the years, the art of knitting has become more prevalent in the industry of arts and crafts. From typical commoners to well-known celebrities in Hollywood, knitting has been a part of people's leisure activities. Different types of knitters have their own preferences when it comes to creating their masterpieces. Most of them are quite choosy with their yarn, though there are also some who are more particular with the types of needle that they use. A knitting needle or pin is one of the main tools in producing knitted fabrics. It is generally composed of two main parts: the long shaft and the taper. The long shaft's main purpose is to hold the stitches of the yarn, preventing it from disentanglement. On the other hand, the tapered end is used to form new stitches. Knitting needles come in a variety of sizes, styles, and materials. Each classification allows a knitter to form a range of stitching designs while knitting. As a beginner, you don't actually need to buy all of these types to come up with a masterpiece. You just have to consider a few guidelines on choosing the best knitting needle for your craft.
Photo from rokolee.com
Tips on choosing the appropriate knitting needle for your craft:
1. What type of knitted product do you want to create?
Is it a hat? A scarf? A pair of gloves or a sweater? Before starting your project, you need to consider what kind of item you're going to knit first. Each knitted product has a specific pattern that needs a particular material to use. Now, let's discover the different types of knitting needles based on their materials, sizes, and styles.
Photo from Helen Bamber Foundation
Materials
Wood/Bamboo – light in weight and comfortable to use. These types of materials are ideal for beginners since both excellently fit all kinds of yarns. With its slightly rough surface and smooth finish, a knitter can easily manage forming the stitches in a slow and precise manner. Both have the same specifications but traditional wood is harder to find and more expensive than bamboo.
Photo of Addi Olive Wood Circular Knitting Needles from Makers' Mercantile
Metal
– the heaviest and the most durable type of knitting needle. Metal knitting needles can either be made of aluminum or nickel. Aluminum knitting needles are more accessible than ones with nickel plating. It can be easily found in mainstream handicraft shops and is less expensive than nickel. Nickel knitting needles on the other hand are smoother and lighter than aluminum, allowing you to knit quickly with a minimal assistance. Compared with other knitting needles, metal needles lets you knit faster thanks to its smooth and slippery surface. It is good for all types of yarns but works most efficiently with wool, wool blends, and acrylic.
Photo of Addi Aluminum Single Point Needles from Makers Mercantile
Plastic
– the lightest and the least expensive among all kinds of the knitting needles. This material is perfect for first timers who simply want to try the thrill of knitting. Plastic knitting needles are very flexible and are excellent for all types of yarns and yarn weights. They are extendable and are considered the top choice in creating large stitches. Some of the knitted products that need the use of plastic knitting needles are shredded plastic bags, rags, and ropes.
Photo of Addi Plastic Single Point Needles from Makers Mercantile
Other knitting needle materials
– knitting needles can also be made of organic ingredients such as milk protein, bone, ivory, glass, and pearl. One of these unusual knitting needle materials is Swallow Casein. This kind of knitting needle is naturally made from non-toxic milk protein that is warm and smooth to use. It is fluorescent pearl in color with classic tortoise patterns. Its surface is not as slippery as aluminum's and has a flexible quality that provides a gentle and quiet knitting experience. Another example is the Pony Pearl Knitting needle. Made of cellulose acetate, the Pony Pearl knitting needle comes in bright, cheerful hues. It also has a moderately smooth surface, which is ideal for quick knitting. This type of material is less flexible than the other kinds but its vibrancy brings a certain appeal that stimulates a knitter's creativity.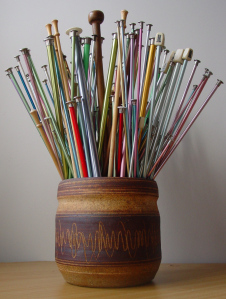 Photo from knitsburgh
*Just a tip: If you have a yarn with great texture, go for a smoother needle. On the other hand, if your yarn has a slippery surface, go for a knitting needle with a rougher grip. Feel the needle first before you buy it, and as much as possible, buy the yarn and the knitting needle at the same time to see if they suit each other. The Different Knitting Needles and Its Styles Straight or Single Pointed – the common type that often comes to mind when people think of knitting. Straight knitting needles come in pairs and are usually in lengths of 10" and 24". Ideal for beginners, this kind of knitting needle is used for knitting scarves, wraps, and small blankets.
Photo from Wikipedia
Circular
– one of the most versatile among the other types. Circular needles consist of shorter pointed sticks (usually made of plastic) that are attached to one another through a smooth nylon cord. It is ideal during travel as it does not require a knitter to execute a wide array moves. This kind of knitting needle is most commonly used in creating sweaters and huge blankets. It comes in the lengths of 16", 20", 24", and 32".
Photo of Addi Turbo Circular Needles from Makers Mercantile
Double Pointed
– this kind of knitting needle have points on both ends. It is designed for knitting small round items without seams. Some of the crafts you can make from using this type of needle are socks, hats, and seamless garments.
Photo from Wikipedia
Interchangeable Sets
– consist of short needle tips that are similar to circular knitting needles. This knitting needle can be used for both circular and straight point purposes. Although this type is somewhat expensive compared with other knitting needles, it is more efficient as it comes in sets of different sizes and lengths, which is especially useful to dedicated knitters.
Photo of Addi Lace Sort Tip Interchangeable Needle Set from Makers Mercantile
Choosing the correct knitting needle size:
There are a lot of needle sizes available in the market. In choosing the appropriate needle size for a knitting pattern, one must first consider the tightness of their way of knitting. Through the use of a needle gauge, we can determine the right needle size needed for a particular project. A gauge is also essential in identifying the number of stitches per inch that a knitter creates horizontally in ratio with the number of rows knitted vertically. As you go along with knitting, you'll eventually learn the different target gauges for each knitted craft.
Photo of Addi Needle Gauge from Makers Mercantile
Listed below is a chart of needle sizes and its conversion: